Faraja is the first patient with burn injuries that Karianne W. Fjære met and the patient who inspired and gave life to Care4Burn, in the summer of 2008. When Faraja was 6 years old, she suffered from third-degree burn injuries to almost half her body.
As she was playing with her sisters in the family kitchen area her clothes caught fire and in a few moments, Faraja went from being a healthy 6-year-old girl to a girl with third-degree burn injuries on her chest, back and left arm. Without expertise and availability of modern burn care, her burn injuries could have had serious consequences, such as life-threatening infections, disabling contractions, long-term disabilities and even death.
Faraja comes from a poor family. Together with her mother and father, she and her three siblings live in a dirt hut on the outskirts of a small village at the foot of Mt. Meru, outside Arusha in northern Tanzania. Like most parents in the village, both her parents are illiterate and have no permanent work. Thus, the family lives from hand to mouth from what the parents can save together from small jobs in the village.
In November 2008, Faraja was operated on for the first time, where she got a skin transplantation to cover her large wounds. The following year, in November 2009, Faraja got her second operation. This time she underwent a "reconstruction" of her old injuries.
A reconstruction of old injuries was necessary the year after since, despite extensive skin transplantation the year before, Faraja still had a lot of scar tissue around the armpit and elbow. This large amount of scar tissue had resulted in a dysfunctional contraction. The contraction meant that Faraja was not able to stretch her arm completely. Instead, her arm was constantly bent in a 90 degree position, making it less functional. During Faraja's second operation, the contracted scar tissue at her armpit and elbow was therefore removed and the wound covered with thick 'new' skin, harvested from her thighs. The reconstruction resulted in Faraja regaining full mobility in her arm, see pictures before and after surgery here here.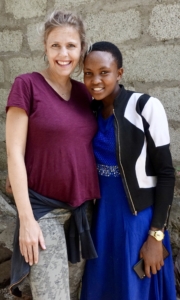 Today, Faraja is 15 years old and has just finished primary school. Her favourite subjects are mathematics and English. Her dream is to work as an accountant when she grows up.
In just a few months, Faraja will start at secondary school, along with 35 other girls, which she is very much looking forward to.
One surgery costs approximately 100 EURO. Faraja has undergone two surgeries, both carried out by plastic surgeon Einar Eriksen.
For approximately 200 EURO Faraja got a new chance in life.
Together we can make a difference!
If you have questions or want to hear more about our work and how you can contribute, please feel free to contact us at info@care4burn.org.
https://www.care4burn.org/wp-content/uploads/2018/10/IMG_3656.jpg
1536
2048
Care4Burn
/wp-content/uploads/2018/10/Logo-without-tagline_with-extra-space-on-both-side.png
Care4Burn
2018-10-16 20:04:59
2019-06-03 17:45:34
Faraja